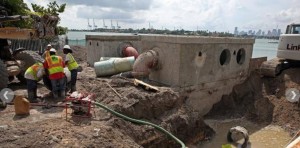 In order to mitigate flooding in the West Avenue Corridor, underground pump station will be installed and the elevation of the streets and sidewalks will be raised up to three feet. The project also involves major streetscape improvements: the city's first protected bike path, wider sidewalks, brighter lighting, pedestrian crosswalks and shade trees. Latest Updates West Avenue Neighborhood Improvement Project
That means the previously approved streetscape design from 2007 will be replaced by a modern urban design.

The project takes place in two phases. Phase One broke ground February 2015 and scheduled to complete by April 2016 (actually completed in Oct). Eight blocks will be renovated: West Avenue from 5th to 8th Street and Lincoln to 17th Street. Also 6th Street from Alton to West Ave, 10th Street from Alton to the Bay, 14th Street from Alton to the Bay, 17th Street from Alton to West Avenue.  All condominium buildings in the path of Phase One are urged to immediately meet with the city engineer to discuss how your home will be effected by the street elevation changes.
Phase Two will renovate all the other streets within the West Ave Corridor and will begin in 2016.

Pump stations are on the street-ends at 5th, 10th,14th, and 17th Street.  Hence, flooding was alleviated since the October 2015 King Tide.
There will be lots of dust, street closures, lane closures and sidewalk closures (just like what took place on Alton Road). But, the result will be dramatic and well worth the short term pain. The West Avenue Corridor will be transformed into Miami Beach's most beautiful pedestrian friendly and bike friendly neighborhood.
Project Fact Sheet released 2/26/2015